The Best Corfe Castle Walks includes 9 of my favourite walks starting in the historic village of Corfe Castle which nestles in a gap in the Purbeck Hills on the route between Wareham and Swanage.
Further details and photos of the village can be found at https://www.dorsetguide.com/corfe-castle-village/
The majority of the walks listed below start at the main Corfe Castle National Trust Car Park Sat Nav postcode BH20 5DR (Google map) (what3words). If approaching Corfe Castle from Wareham along the A351 the car park is on the left before you get to the village. This car park is free to National Trust members or for non-members £2 for up to 1 hour and £4 for up to 4 hours (prices subject to change).
An alternative car park can be found at the Purbeck Park in Norden BH20 5DW (Google map) which is located about half a mile outside Corfe Castle. This is a great place to park in the summer holidays as it avoids much of the traffic congestion in the village. Purbeck Park is large car park which costs £4 all day (price subject to change see https://www.dorsetcouncil.gov.uk/ for more info). You can easily walk from the Purbeck Park car park to the National Trust Car park (0.4 miles each way) where the majority of walks listed below start from (see route map https://www.outdooractive.com/)
1. Corfe Castle to East Hill and Village Square Walk
Distance: 2.5 miles (circular)
Difficulty: Easy
Estimated time: 1 hour 10 minutes
Total ascent 315ft, Highest point 341ft
Starting point: National Trust Car Park Corfe Castle BH20 5DR
OS Map: Explorer OL15 Purbeck & South Dorset
Link to GPS route map
https://www.outdooractive.com/
https://www.alltrails.com/
https://explore.osmaps.com/
https://www.google.com/maps/
2. Corfe Castle to Nine Barrows Down Walk
Distance: 5.3 miles (circular)
Difficulty: Easy
Estimated time: 2 hours 20 minutes
Total ascent 574ft, Highest point 604ft
Starting point: National Trust Car Park Corfe Castle BH20 5DR
OS Map: Explorer OL15 Purbeck & South Dorset
Link to GPS route map
https://www.outdooractive.com/
https://www.alltrails.com/
https://explore.osmaps.com/
https://www.google.com/maps/
3. Corfe Castle to Swanage Walk
Distance: 6.6 miles (one-way)
Difficulty: Moderate
Estimated time: 2 hours 50 minutes
Total ascent 614ft, Highest point 646ft
Starting point: National Trust Car Park Corfe Castle BH20 5DR
End point: Swanage Railway Station, Swanage, BH19 1HB
OS Map: Explorer OL15 Purbeck & South Dorset
For a great day out you can return by steam train from Swanage to Corfe Castle. Book train tickets in advance at https://www.swanagerailway.co.uk
Alternatively you can take the Breezer 40 bus back to Corfe https://www.morebus.co.uk/
Link to GPS route map
https://www.outdooractive.com/
https://www.alltrails.com/
https://explore.osmaps.com/
https://www.google.com/maps/
4. Corfe Castle to Old Harry Rocks and Swanage Walk
Distance: 11 miles (one-way)
Difficulty: Moderate
Estimated time: 5 hours 20 minutes
Total ascent 1739ft, Highest point 646ft
Starting point: National Trust Car Park Corfe Castle BH20 5DR
OS Map: Explorer OL15 Purbeck & South Dorset
For a great day out you can return by steam train from Swanage to Corfe Castle. Book train tickets in advance at https://www.swanagerailway.co.uk
Alternatively you can take the Purbeck Breezer 40 bus back to Corfe https://www.morebus.co.uk/
Link to GPS route map
https://www.outdooractive.com/
https://www.alltrails.com/
https://explore.osmaps.com/
https://www.google.com/maps/
5. Corfe Castle West Purbeck Ridgeway Walk
Distance: 4.4 miles (circular)
Difficulty: Easy
Estimated time: 2 hours
Total ascent 558ft, Highest point 479ft
Starting point: National Trust Car Park Corfe Castle BH20 5DR
OS Map: Explorer OL15 Purbeck & South Dorset
Link to GPS route map
https://www.outdooractive.com/
https://www.alltrails.com/
https://explore.osmaps.com/
https://www.google.com/maps/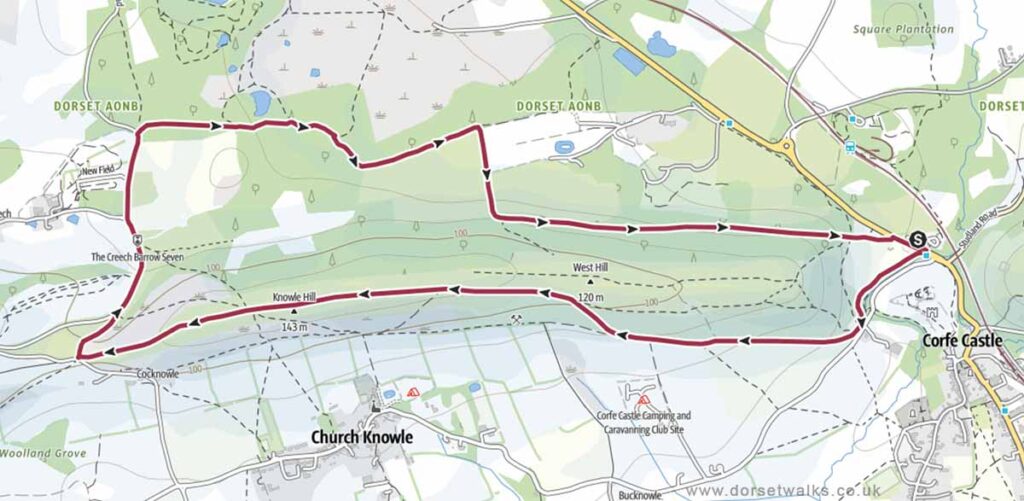 6. Corfe Castle to Blue Pool Walk
Distance: 5.3 miles (circular)
Difficulty: Easy
Estimated time: 2 hours 20 minutes
Total ascent 558ft, Highest point 479ft
Starting point: National Trust Car Park Corfe Castle BH20 5DR
OS Map: Explorer OL15 Purbeck & South Dorset
Note that this route doesn't include the option of walking around Blue Pool (add an extra mile). Blue Pool is a private tourist attraction which costs £5 per person (adult). For more info see https://bluepooltearooms.co.uk
Link to GPS route map
https://www.outdooractive.com/
https://www.alltrails.com/
https://explore.osmaps.com/
https://www.google.com/maps/
7. Corfe Castle to Kingston Walk
Distance: 4.9 miles (circular)
Difficulty: Easy
Estimated time: 2 hours 11 minutes
Total ascent 630ft, Highest point 413ft
Starting point: National Trust Car Park Corfe Castle BH20 5DR
OS Map: Explorer OL15 Purbeck & South Dorset
Link to GPS route map
https://www.outdooractive.com/
https://www.alltrails.com/
https://explore.osmaps.com/
https://www.google.com/maps/
8. Corfe Castle to Chapmans Pool Walk
Distance: 7.7 miles (circular)
Difficulty: Moderate
Estimated time: 3 hours 26 minutes
Total ascent 991ft, Highest point 502ft
Starting point: National Trust Car Park Corfe Castle BH20 5DR
OS Map: Explorer OL15 Purbeck & South Dorset
Link to GPS route map
https://www.outdooractive.com/
https://www.alltrails.com/
https://explore.osmaps.com/
https://www.google.com/maps/
9. Corfe Castle to Swyre Head and Ridgeway Hill Walk
Distance: 9.3 miles (circular)
Difficulty: Moderate
Estimated time: 4 hours 15 minutes
Total ascent 1161ft, Highest point 669ft
Starting point: National Trust Car Park Corfe Castle BH20 5DR
OS Map: Explorer OL15 Purbeck & South Dorset
Link to GPS route map
https://www.outdooractive.com/
https://www.alltrails.com/
https://explore.osmaps.com/
https://www.google.com/maps/