The Best West Bay Walks includes 11 scenic walks starting in the seaside resort of West Bay (originally known as Bridport Harbour). The resort is situated only 1.5 miles south of Bridport town and lies on the Jurassic Coast, a World Heritage Site. West Bay was used as the filming location of ITV series Broadchurch.
The town is served by regular buses east to Burton Bradstock, Abbotsbury and Weymouth (X53 Jurassic Coaster) and west to Bridport town and Lyme Regis (X53 Jurassic Coaster).
https://www.firstbus.co.uk
Walk highlights include routes to Thorncombe Beacon and Golden Cap, Hive Beach and Abbotsbury.
Town centre parking can be found at West Bay Road Car Park, DT6 4EW (Google map)(what3words) which is used as the starting point for the majority of the walks listed below.
1. West Bay to Eype Beach (out and back)
Distance: 3.1 miles (circular)
Difficulty: Easy
Estimated time: 1 hour 25 minutes
Total ascent 407 ft, Highest point 233 ft
Starting point: West Bay Road Car Park, DT6 4EW
OS Map: Explorer 116 Lyme Regis & Bridport
Link to GPS Route Map
https://www.outdooractive.com/
https://www.alltrails.com/
https://explore.osmaps.com/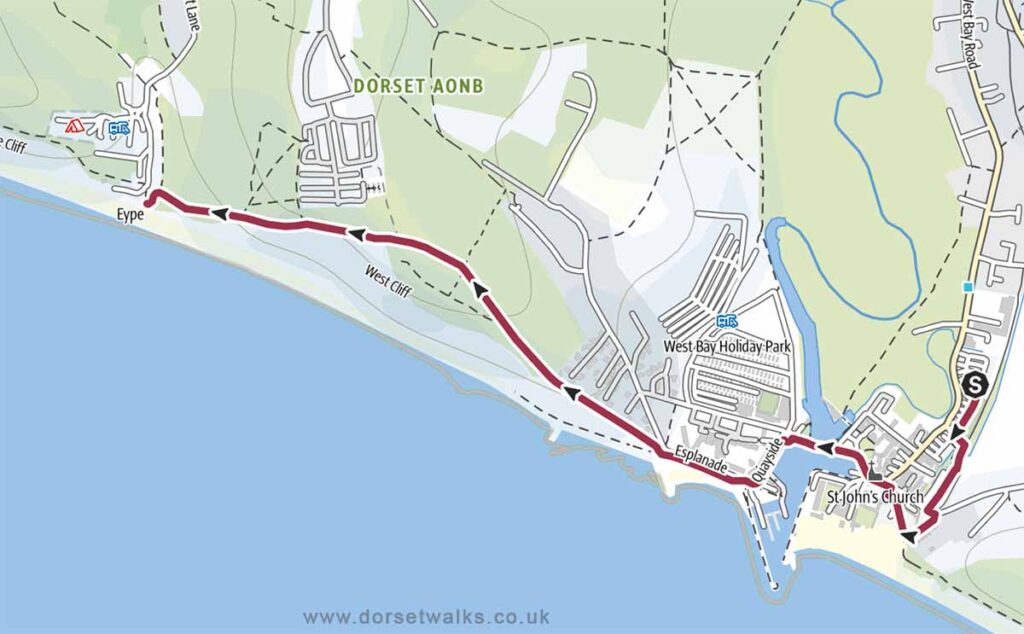 2. West Bay to Eype and Thorncombe Beacon Walk
Distance: 5.3 miles (circular)
Difficulty: Easy
Estimated time: 2 hours 35 minutes
Total ascent 850 ft, Highest point (Thornecombe Beacon) 157 m/ 515 ft
Starting point: West Bay Road Car Park, DT6 4EW
OS Map: Explorer 116 Lyme Regis & Bridport
Link to GPS Route Map
https://www.outdooractive.com/
https://www.alltrails.com/
https://explore.osmaps.com/
3. West Bay to Seatown Walk
Distance: 7.4 miles (circular)
Difficulty: Easy
Estimated time: 3 hours 45 minutes
Total ascent 1302 ft, Highest point (Thornecombe Beacon) 157 m/ 515 ft
Starting point: West Bay Road Car Park, DT6 4EW
OS Map: Explorer 116 Lyme Regis & Bridport
Link to GPS Route Map
https://www.outdooractive.com/
https://www.alltrails.com/
https://explore.osmaps.com/
4. West Bay to Golden Cap Walk (out and back)
Distance: 9 miles (out and back)
Difficulty: Moderate
Estimated time: 4 hours 45 minutes
Total ascent 1949 ft, Highest point (Golden Cap) 191 m / 627 ft
Starting point: West Bay Road Car Park, DT6 4EW
OS Map: Explorer 116 Lyme Regis & Bridport
Link to GPS Route Map
https://www.outdooractive.com/
https://www.alltrails.com/
https://explore.osmaps.com/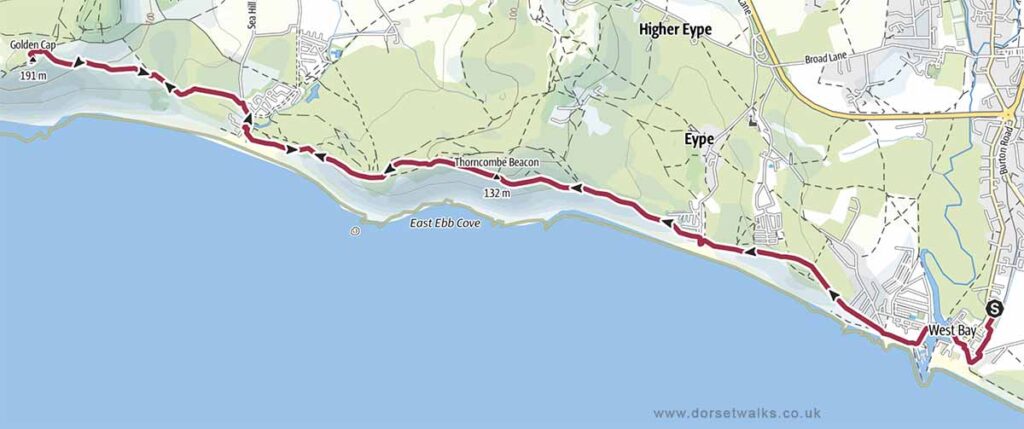 5. West Bay to Lyme Regis Walk (South West Coast Path)
Distance: 11.6 miles (One-way)
Difficulty: Moderate
Estimated time: 5 hours 55 minutes
Total ascent 2365 ft, Highest point (Golden Cap) 191 m / 627 ft
Starting point: West Bay Road Car Park, DT6 4EW
OS Map: Explorer 116 Lyme Regis & Bridport
Link to GPS Route Map
https://www.outdooractive.com/
https://www.alltrails.com/
https://explore.osmaps.com/
6. West Bay to Bridport Walk (out and back)
Distance: 3.5 miles (out and back)
Difficulty: Easy
Estimated time: 1 hours 30 minutes
Total ascent 49 ft, Highest point 49 ft
Starting point: West Bay Road Car Park, DT6 4EW
OS Map: Explorer 116 Lyme Regis & Bridport
Link to GPS Route Map
https://www.outdooractive.com/
https://www.alltrails.com/
https://explore.osmaps.com/
7. West Bay to Freshwater Beach Walk
Distance: 2.6 miles (circular)
Difficulty: Easy
Estimated time: 1 hour 30 minutes
Total ascent 384 ft, Highest point 164 ft
Starting point: West Bay Road Car Park, DT6 4EW
OS Map: Explorer 116 Lyme Regis & Bridport
Link to GPS Route Map
https://www.outdooractive.com/
https://www.alltrails.com/
https://explore.osmaps.com/
8. West Bay to Hive Beach Walk (out and back)
Distance: 5.3 miles (out and back)
Difficulty: Easy
Estimated time: 3 hours 5 minutes
Total ascent 787 ft, Highest point 164 ft
Starting point: West Bay Road Car Park, DT6 4EW
OS Map: Explorer 116 Lyme Regis & Bridport
Link to GPS Route Map
https://www.outdooractive.com/
https://www.alltrails.com/
https://explore.osmaps.com/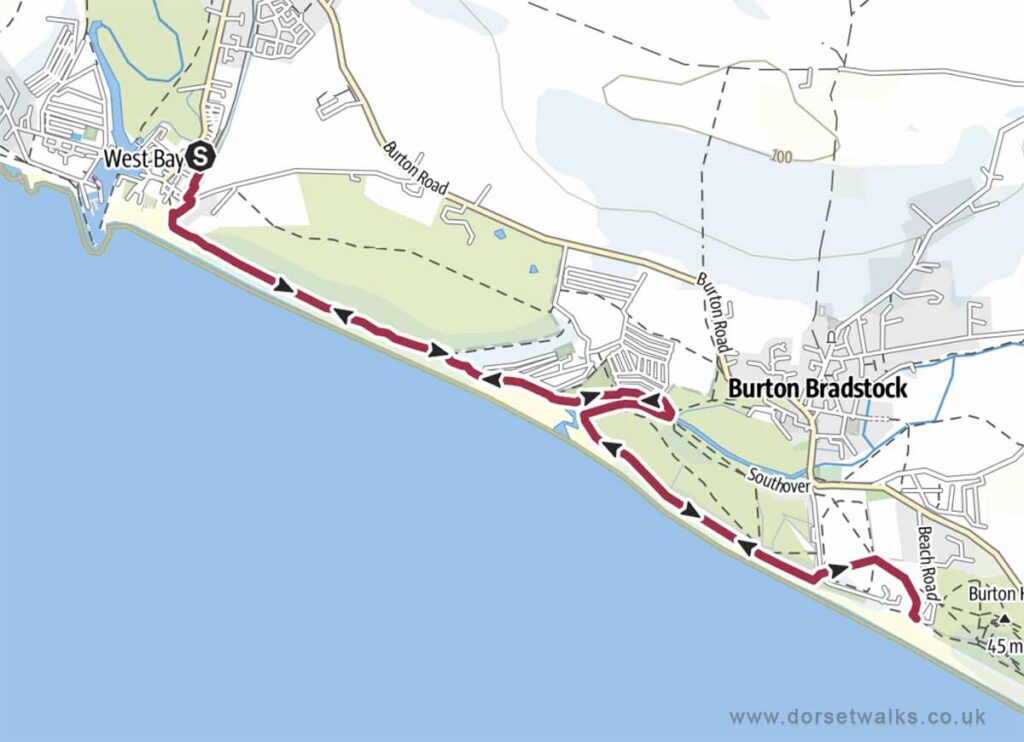 9. West Bay to Hive Beach and Burton Bradstock Walk
Distance: 5 miles (circular)
Difficulty: Easy
Estimated time: 2 hours 30 minutes
Total ascent 515 ft, Highest point 164 ft
Starting point: West Bay Road Car Park, DT6 4EW
OS Map: Explorer 116 Lyme Regis & Bridport
Link to GPS Route Map
https://www.outdooractive.com/
https://www.alltrails.com/
https://explore.osmaps.com/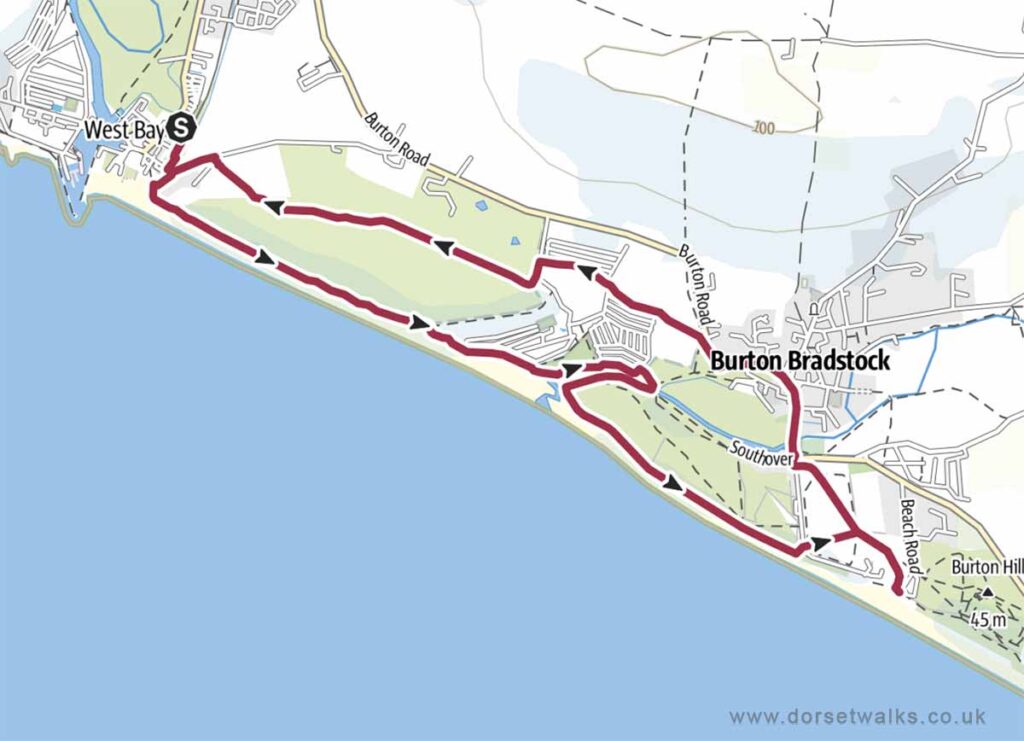 10. West Bay to Cogden Beach NT Car Park Walk
Distance: 3.8 miles (one-way, return by bus)
Difficulty: Easy
Estimated time: 2 hours 5 minutes
Total ascent 528 ft, Highest point 164 ft
Starting point: West Bay Road Car Park, DT6 4EW
End point: Cogden Beach NT Car Park DT6 4RN (Google map)
OS Map: Explorer 116 Lyme Regis & Bridport
There is a bus stop next to the car park (Google map)(what3words) so you can return to West Bay on the X53 Jurassic Coaster bus service (https://www.firstbus.co.uk/)
Link to GPS Route Map
https://www.outdooractive.com/
11. West Bay to Abbotsbury Walk (South West Coast Path)
Distance: 9.1 miles (one-way, return by bus)
Difficulty: Easy to moderate
Estimated time: 4 hours 10 minutes
Total ascent 499 ft, Highest point 164 ft
Starting point: West Bay Road Car Park, DT6 4EW
End point: Abbotsbury Swannery Car Park DT3 4JG
OS Map: Explorer 116 Lyme Regis & Bridport
If you plan to return to West Bay by bus the bus stop is outside the Ilchester Arms Pub in Market Street (Google map)(what3words). You'll need to take the X53 Jurassic Coaster bus service (https://www.firstbus.co.uk/)
Link to GPS Route Map
https://www.outdooractive.com
https://www.alltrails.com/
https://explore.osmaps.com/