The Best Abbotsbury Walks includes 8 coastal and country walks starting in the picturesque Dorset village of Abbotsbury. The village is located just a short walk from Chesil Beach coastline and about 10 miles south west of Dorchester and 9 miles north west of Weymouth.
The main attraction is the nearby Abbotsbury Swannery https://abbotsbury-tourism.co.uk/swannery/ and Subtropical Gardens https://abbotsbury-tourism.co.uk/gardens/
Another popular attraction is St Catherine's Chapel, a 14th-century pilgrimage chapel that stands on a hill between the village and the coast.
Abbotsbury Car Parks
Main village car park (Google map)(what3words) 3 Rodden Row, Abbotsbury, Weymouth DT3 4JL
Abbotsbury Swannery Car Park (Google map)(what3words) Just follow the signs for the Swannery, there no point in giving you a postcode because it takes you to the wrong place.
1. Abbotsbury to St Catherine's Chapel Walk
Distance: 2.5 miles (circular)
Difficulty: Easy
Estimated time: 1 hour 5 minutes
Total ascent 272 ft, Highest point 272 ft
Starting point: Main village car park DT3 4JL
OS Map: Explorer OL15 Purbeck & South Dorset
Link to GPS route map
https://www.outdooractive.com/
https://www.alltrails.com/
https://explore.osmaps.com/
2. Abbotsbury Swannery, Subtropical Gardens and St Catherine's Chapel Walk
Note that this walk includes for walking around Abbotsbury Swannery and Abbotsbury Tropical Gardens so you'll have to buy entrance tickets for both of these places (see links above) It's cheaper if you buy a combined ticket to enter both attractions.
Distance: 5.5 miles (circular)
Difficulty: Easy
Estimated time: 2 hours 30 minutes
Total ascent 554 ft, Highest point 272 ft
Starting point: Abbotsbury Swannery Car Park
OS Map: Explorer OL15 Purbeck & South Dorset
Link to GPS route map
https://www.outdooractive.com/
https://www.alltrails.com/
https://explore.osmaps.com/
3. Abbotsbury to Tulk's Hill Walk
Distance: 6.3 miles (circular)
Difficulty: Easy
Estimated time: 3 hours
Total ascent 863 ft, Highest point 696 ft
Starting point: Main village car park DT3 4JL
OS Map: Explorer OL15 Purbeck & South Dorset
Link to GPS route map
https://www.outdooractive.com/
https://www.alltrails.com/
https://explore.osmaps.com/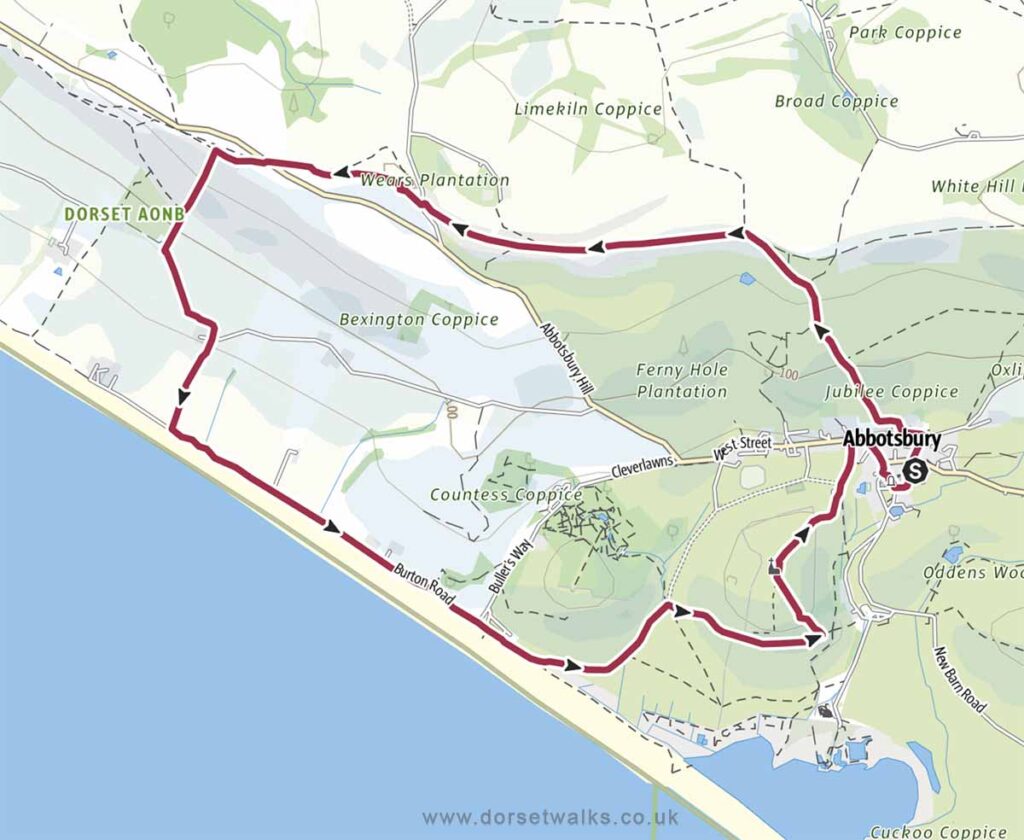 4. Abbotsbury to West Bexington Walk
Distance: 8.1 miles (circular)
Difficulty: Moderate
Estimated time: 3 hours 35 minutes
Total ascent 820 ft, Highest point 696 ft
Starting point: Main village car park DT3 4JL
OS Map: Explorer OL15 Purbeck & South Dorset
Link to GPS route map
https://www.outdooractive.com/
https://www.alltrails.com/
https://explore.osmaps.com/
5. Abbotsbury to Hell Stone Walk
Distance: 6.1 miles (circular)
Difficulty: Easy
Estimated time: 2 hours 45 minutes
Total ascent 650 ft, Highest point 686 ft
Starting point: Main village car park DT3 4JL
OS Map: Explorer OL15 Purbeck & South Dorset
Link to GPS route map
https://www.outdooractive.com/
https://www.alltrails.com/
https://explore.osmaps.com/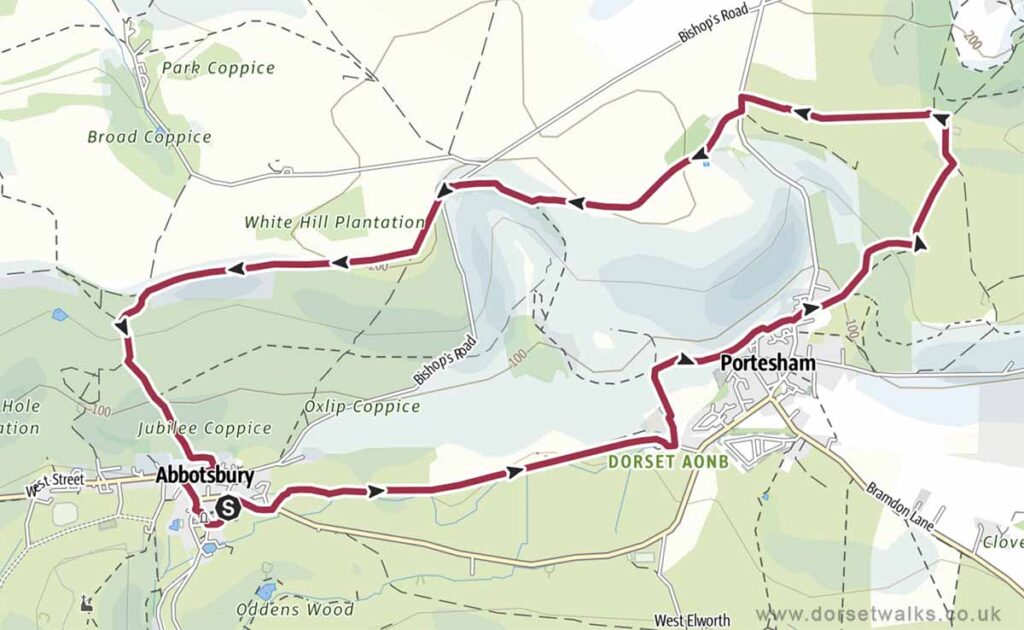 6. Abbotsbury to West Bay Bridport SWCP Walk (one-way)
Distance: 9.3 miles (one-way)
Difficulty: Moderate
Estimated time: 4 hours 15 minutes
Total ascent 495 ft, Highest point 164 ft
Starting point: Abbotsbury Swannery Car Park
OS Map: Explorer OL15 Purbeck & South Dorset
Link to GPS route map
https://www.outdooractive.com/
https://www.alltrails.com/
https://explore.osmaps.com/
7. Abbotsbury to Seatown SWCP Walk (one-way)
Distance: 12.3 miles (one-way)
Difficulty: Moderate
Estimated time: 6 hours
Total ascent 1152 ft, Highest point 486 ft
Starting point: Abbotsbury Swannery Car Park
OS Map: Explorer OL15 Purbeck & South Dorset
Link to GPS route map
https://www.outdooractive.com/
https://www.alltrails.com/
https://explore.osmaps.com/
8. Abbotsbury to Weymouth SWCP Walk (one-way)
Distance: 10.8 miles (one-way)
Difficulty: Moderate
Estimated time: 4 hours 45 minutes
Total ascent 397 ft, Highest point 272 ft
Starting point: Abbotsbury Swannery Car Park
OS Map: Explorer OL15 Purbeck & South Dorset
Link to GPS route map
https://www.outdooractive.com/
https://www.alltrails.com/
https://explore.osmaps.com/