The Best Swanage Walks includes 11 hand-picked walks starting in the popular seaside resort of Swanage. The town offers many visitor attractions such as a gently sloping sandy beach, Victorian Pier, plenty of pubs and fish & chips shops, and a historic steam railway that connects Swanage to Corfe Castle.
The town is served by regular buses to Langton Matravers, Kingston, Corfe Castle, Wareham and Poole (Breezer 40 service) and to Studland, Sandbanks and Bournemouth (Breezer 50 service)
Walk highlights include routes to Studland and Old Harry Rocks, Corfe Castle, Durlston Country Park, Worth Matravers and Kingston.
1. Swanage to Old Harry Rocks
Distance: 6.5 miles (there and back)
Difficulty: Easy
Estimated time: 3 hours 40 minutes
Total ascent 1742ft, Highest point 364ft
Starting point: King Alfred Memorial, Shore Road, Swanage, BH18 1DD
OS Map: Explorer OL15 Purbeck & South Dorset
Link to GPS route map
https://www.outdooractive.com/
https://www.alltrails.com/
https://explore.osmaps.com/
2. Swanage to Studland and Old Harry Rocks
Distance: 7.4 miles (circular)
Difficulty: Easy
Estimated time: 3 hours 45 minutes
Total ascent 1339ft, Highest point 446ft
Starting point: King Alfred Memorial Swanage Beach, Shore Road, Swanage, BH18 1DD
OS Map: Explorer OL15 Purbeck & South Dorset
Link to GPS route map
https://www.outdooractive.com/
https://www.alltrails.com/
https://explore.osmaps.com/
3. Swanage to Corfe Castle (one-way)
Distance: 6.1 miles (circular)
Difficulty: Easy
Estimated time: 2 hours 40 minutes
Total ascent 659ft, Highest point 646ft
Starting point: King Alfred Memorial, Shore Road, Swanage, BH18 1DD
OS Map: Explorer OL15 Purbeck & South Dorset
Link to GPS route map
https://www.outdooractive.com/
https://www.alltrails.com/
https://explore.osmaps.com/
4. Swanage to Old Harry Rocks and Corfe Castle (one-way)
Distance: 10.4 miles (one-way)
Difficulty: Moderate
Estimated time: 5 hours 15 minutes
Total ascent 1781ft, Highest point 646ft
Starting point: King Alfred Memorial, Shore Road, Swanage, BH18 1DD
OS Map: Explorer OL15 Purbeck & South Dorset
Link to GPS route map
https://www.outdooractive.com/
https://www.alltrails.com/
https://explore.osmaps.com/
5. Swanage to South Haven Point SWCP (one-way)
Distance: 7.5 miles (one-way)
Difficulty: Easy to moderate
Estimated time: 3 hours 40 minutes
Total ascent 938ft, Highest point 364ft
Starting point: King Alfred Memorial, Shore Road, Swanage, BH18 1DD
End point: South West Coast Path End Marker, South Haven Point, BH19 3BA (next to the Sandbanks Ferry)
OS Map: Explorer OL15 Purbeck & South Dorset
Link to GPS route map
https://www.outdooractive.com/
https://www.alltrails.com/
https://explore.osmaps.com/
6. Swanage to Bournemouth (one-way)
Distance: 12.1 miles (circular)
Difficulty: Moderate
Estimated time: 5 hours 35 minutes
Total ascent 988ft, Highest point 364ft
Starting point: King Alfred Memorial, Shore Road, Swanage, BH18 1DD
End point: Bournemouth Pier, BH2 5AA
OS Map: Explorer OL15 Purbeck & South Dorset
Link to GPS route map
https://www.outdooractive.com/
https://www.alltrails.com/
https://explore.osmaps.com/
7. Swanage to Durlston Country Park
Distance: 4.3 miles (circular)
Difficulty: Easy
Estimated time: 2 hours 15 minutes
Total ascent 548ft, Highest point 285ft
Starting point: King Alfred Memorial, Shore Road, Swanage, BH18 1DD
OS Map: Explorer OL15 Purbeck & South Dorset
Link to GPS route map
https://www.outdooractive.com/
https://www.alltrails.com/
https://explore.osmaps.com/
8. Swanage to Worth Matravers SWCP (one-way)
Distance: 9.9 miles (one-way)
Difficulty: Moderate
Estimated time: 5 hours 55 minutes
Total ascent 2526ft, Highest point 427ft
Starting point: King Alfred Memorial, Shore Road, Swanage, BH18 1DD
End point: The Square and Compass Pub, Worth Matravers BH19 3LF
OS Map: Explorer OL15 Purbeck & South Dorset
Link to GPS route map
https://www.outdooractive.com/
https://www.alltrails.com/
https://explore.osmaps.com/
9. Swanage to Kingston SWCP (one-way)
Distance: 11.2 miles (one-way)
Difficulty: Moderate
Estimated time: 6 hours 30 minutes
Total ascent 2844ft, Highest point 502ft
Starting point: King Alfred Memorial, Shore Road, Swanage, BH18 1DD
End Point: The Scott Arms Pub, Kingston, BH20 5LH
OS Map: Explorer OL15 Purbeck & South Dorset
Link to GPS route map
https://www.outdooractive.com/
https://www.alltrails.com/
https://explore.osmaps.com/
10. Swanage to Old Harry Rocks, Corfe Castle and Kingston Walk (one-way)
Distance: 12.3 miles (one-way)
Difficulty: Moderate
Estimated time: 6 hours 05 minutes
Total ascent 2116ft, Highest point 645ft
Starting point: King Alfred Memorial, Shore Road, Swanage, BH18 1DD
End Point: The Scott Arms Pub, Kingston, BH20 5LH
OS Map: Explorer OL15 Purbeck & South Dorset
Link to GPS route map
https://www.outdooractive.com/
https://www.alltrails.com/
https://explore.osmaps.com/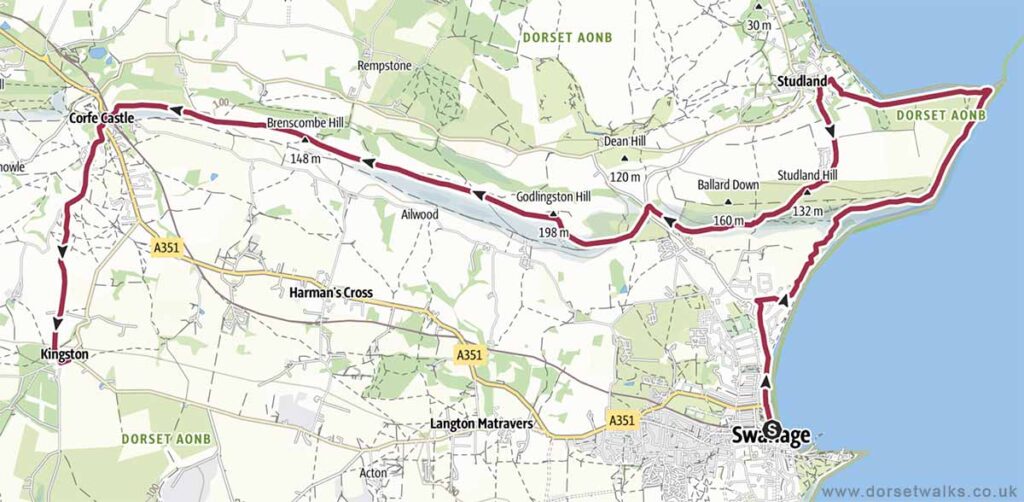 11. Swanage to Kimmeridge Bay SWCP (one-way)
Distance: 13.7 miles (one-way)
Difficulty: Moderate to difficult
Estimated time: 8 hours 15 minutes
Total ascent 3094ft, Highest point 505ft
Starting point: King Alfred Memorial, Shore Road, Swanage, BH18 1DD
End point: Kimmeridge Bay, BH20 5PF
OS Map: Explorer OL15 Purbeck & South Dorset
Link to GPS route map
https://www.outdooractive.com/
https://www.alltrails.com/
https://explore.osmaps.com/