The Best Kimmeridge Walks includes 14 coastal walks starting in the small Dorset village of Kimmeridge. The village is located about 4.5 miles south of Wareham and 7 miles west of Swanage. The main attraction is the superb bay with its ledges and rock pools. In the summer it's a popular destination for families as its a great place for snorkelling and discovering marine wildlife. There are toilets facilities but no shops or lifeguards.
There is a very small free car park just before you enter the village (Quarry car park – see details below) which only has room for a handful of cars. From here it's a 1.2 mile walk down to the bay. By far the easiest place to park is at the main Kimmeridge Bay car park. This car park is free but the road leading to the bay and car park is private and you have to pay a toll of £5 per car. The majority of the walks listed below start at the Bay car park.
Kimmeridge car parks
Kimmeridge Quarry Car Park (Google map) (what3words)
Kimmeridge Bay Main Car Park BH20 5PF (Google map) (what3words) – Toll road fee is £5 per car, £1 motor bike, £10 mini buses & motorhomes. Toll fee includes parking charge.
For more information about Kimmeridge visit https://www.kimmeridgebay.org
It is important to note that the section of the land and coast to the west of Kimmeridge lies within the Lulworth Firing Range and can only be visited when the range is open which is usually at weekends and school holidays. However, to avoid disappointment, it's always best to check opening dates in advance on the government website https://www.gov.uk/. Kimmeridge Bay and village and all walks to the north and east are open to the public all year round.
1. Kimmeridge Bay to Swyre Head Walk
Distance: 5.2 miles circular
Difficulty: Easy
Estimated time: 2 hours 45 mins
Total ascent 837ft, Highest point 669ft
Starting point: Kimmeridge Bay Car Park BH20 5PF
OS Map: Explorer OL15 Purbeck & South Dorset
Link to GPS route map
https://www.outdooractive.com/
https://www.alltrails.com/
https://explore.osmaps.com/
2. Kimmeridge Bay to Houns-tout and Kingston Walk
Distance: 9 miles Circular
Difficulty: Moderate
Estimated time: 4 hours 25 mins
Total ascent 883ft, Highest point 669ft
Starting point: Kimmeridge Bay Car Park BH20 5PF
OS Map: Explorer OL15 Purbeck & South Dorset
Link to GPS route map
https://www.outdooractive.com/
https://www.alltrails.com/
https://explore.osmaps.com/
3. Kimmeridge Bay to Chapmans Pool and Kingston Walk
Distance: 9.4 miles circular
Difficulty: Moderate
Estimated time: 4 hours 50 mins
Total ascent 1325ft, Highest point 669ft
Starting point: Kimmeridge Bay Car Park BH20 5PF
OS Map: Explorer OL15 Purbeck & South Dorset
Link to GPS route map
https://www.outdooractive.com/
https://www.alltrails.com/
https://explore.osmaps.com/

4. Kimmeridge Village to Corfe Castle and Kingston Walk
Distance: 8.8 miles circular
Difficulty: Easy to Moderate
Estimated time: 4 hours
Total ascent 1155ft, Highest point 669ft
Starting point: Kimmeridge Quarry Car Park
OS Map: Explorer OL15 Purbeck & South Dorset
Link to GPS route map
https://www.outdooractive.com/
https://www.alltrails.com/
https://explore.osmaps.com/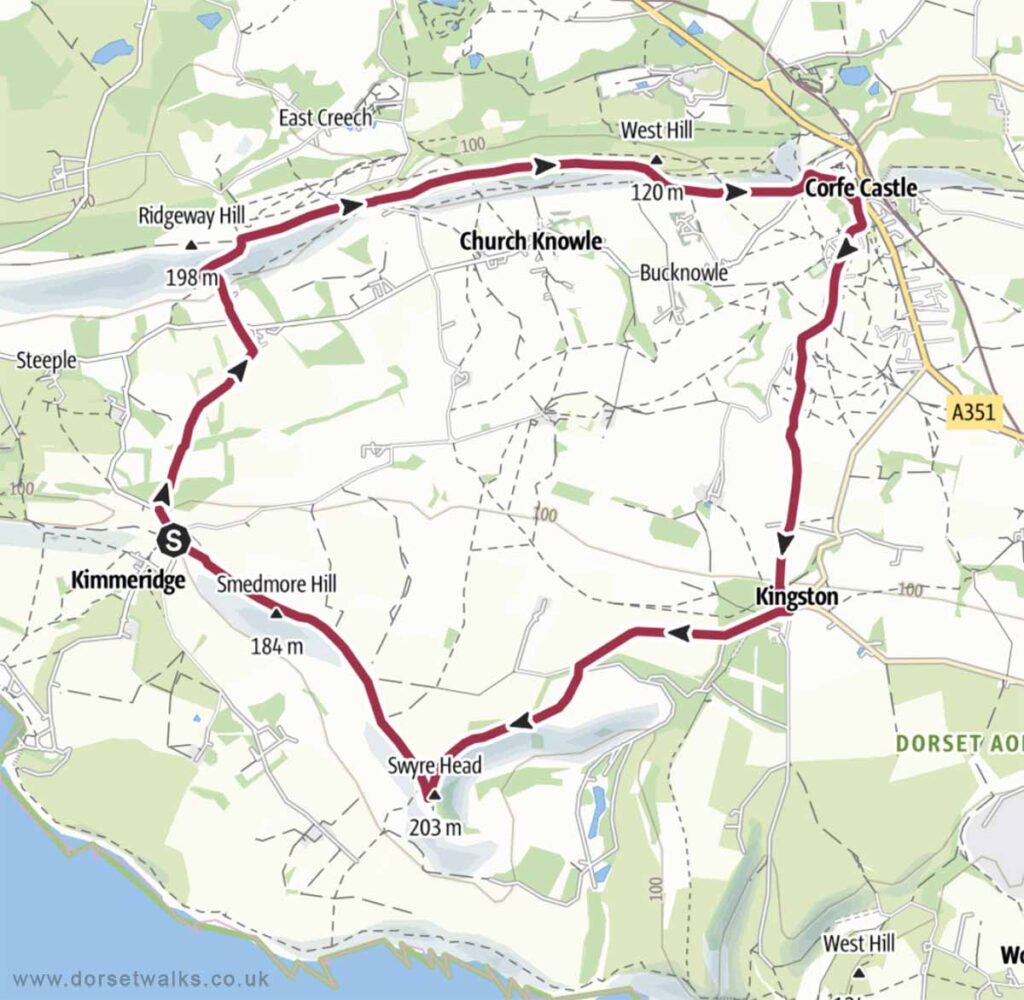 5. Kimmeridge Bay to Corfe Castle and Kingston Walk
Distance: 11.1 miles
Difficulty: Moderate
Estimated time: 5 hours 30 mins
Total ascent 1460ft, Highest point 669ft
Starting point: Kimmeridge Bay Car Park BH20 5PF
OS Map: Explorer OL15 Purbeck & South Dorset
Link to GPS route map
https://www.outdooractive.com/
https://www.alltrails.com/
https://explore.osmaps.com/
6. Kimmeridge Bay to Tyneham Cap Walk
Distance: 3.9 miles
Difficulty: Easy
Estimated time: 2 hours
Total ascent 522ft, Highest point 545ft
Starting point: Kimmeridge Bay Car Park BH20 5PF
OS Map: Explorer OL15 Purbeck & South Dorset
The section of the South West Coast Path between the east of Lulworth Cove and the west of Kimmeridge lies within the Lulworth Firing Range and can only be visited when the range is open which is usually at weekends and school holidays. However, to avoid disappointment, it's always best to check opening dates in advance on the government website https://www.gov.uk/
Link to GPS route map
https://www.outdooractive.com/
https://www.alltrails.com/
https://explore.osmaps.com/
7. Kimmeridge Bay to Swyre Head and Tyneham Cap Walk
Distance: 7.8 miles
Difficulty: Easy
Estimated time: 4 hours
Total ascent 899ft, Highest point 669ft
Starting point: Kimmeridge Bay Car Park BH20 5PF
OS Map: Explorer OL15 Purbeck & South Dorset
The section of the South West Coast Path between the east of Lulworth Cove and the west of Kimmeridge lies within the Lulworth Firing Range and can only be visited when the range is open which is usually at weekends and school holidays. However, to avoid disappointment, it's always best to check opening dates in advance on the government website https://www.gov.uk/
Link to GPS route map
https://www.outdooractive.com/
https://www.alltrails.com/
https://explore.osmaps.com/
8. Kimmeridge Village to Tyneham Cap and Kimmeridge Bay Walk
Distance: 4.9 miles
Difficulty: Easy
Estimated time: 2 hours 20 mins
Total ascent 676ft, Highest point 545ft
Starting point: Kimmeridge Quarry Car Park
OS Map: Explorer OL15 Purbeck & South Dorset
The section of the South West Coast Path between the east of Lulworth Cove and the west of Kimmeridge lies within the Lulworth Firing Range and can only be visited when the range is open which is usually at weekends and school holidays. However, to avoid disappointment, it's always best to check opening dates in advance on the government website https://www.gov.uk/
Link to GPS route map
https://www.outdooractive.com/
https://www.alltrails.com/
https://explore.osmaps.com/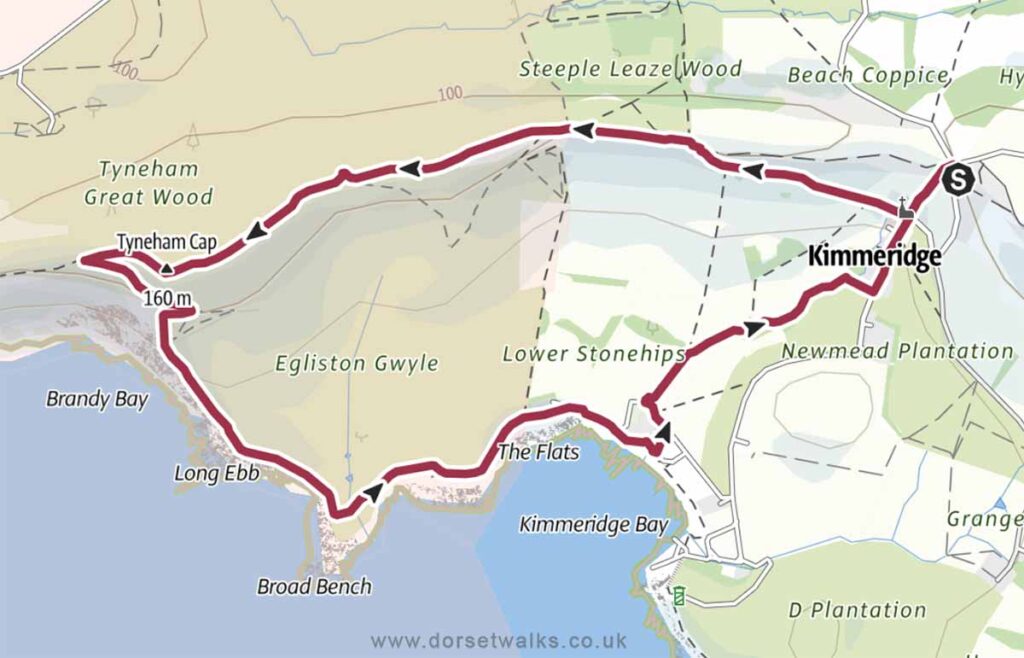 9. Kimmeridge Village to Swyre Head Walk
Distance: 4.2 miles
Difficulty: Easy
Estimated time: 1 hour 55 mins
Total ascent 531ft, Highest point 669ft
Starting point: Kimmeridge Quarry Car Park
OS Map: Explorer OL15 Purbeck & South Dorset
Link to GPS route map
https://www.outdooractive.com/
https://www.alltrails.com/
https://explore.osmaps.com/
10. Kimmeridge Bay to Tyneham Village Walk (there and back)
Distance: 5.5 miles
Difficulty: Easy
Estimated time: 2 hours 45 mins
Total ascent 764ft, Highest point 469ft
Starting point: Kimmeridge Bay Car Park BH20 5PF
OS Map: Explorer OL15 Purbeck & South Dorset
The section of the South West Coast Path between the east of Lulworth Cove and the west of Kimmeridge lies within the Lulworth Firing Range and can only be visited when the range is open which is usually at weekends and school holidays. However, to avoid disappointment, it's always best to check opening dates in advance on the government website https://www.gov.uk/
Link to GPS route map
https://www.outdooractive.com/
https://www.alltrails.com/
https://explore.osmaps.com/
11. Kimmeridge Bay to Wobarrow Bay and Tyneham Village Walk
Distance: 6.7 miles
Difficulty: Moderate
Estimated time: 3 hours 30 mins
Total ascent 932ft, Highest point 482ft
Starting point: Kimmeridge Bay Car Park BH20 5PF
OS Map: Explorer OL15 Purbeck & South Dorset
The section of the South West Coast Path between the east of Lulworth Cove and the west of Kimmeridge lies within the Lulworth Firing Range and can only be visited when the range is open which is usually at weekends and school holidays. However, to avoid disappointment, it's always best to check opening dates in advance on the government website https://www.gov.uk/
Link to GPS route map
https://www.outdooractive.com/
https://www.alltrails.com/
https://explore.osmaps.com/
12. Kimmeridge Bay to Lulworth Cove Walk SWCP
Distance: 7.2 miles (one-way)
Difficulty: Easy to moderate
Estimated time: 4 hours 5 mins
Total ascent 1549ft, Highest point 561ft
Starting point: Kimmeridge Bay Car Park BH20 5PF
OS Map: Explorer OL15 Purbeck & South Dorset
The section of the South West Coast Path between the east of Lulworth Cove and the west of Kimmeridge lies within the Lulworth Firing Range and can only be visited when the range is open which is usually at weekends and school holidays. However, to avoid disappointment, it's always best to check opening dates in advance on the government website https://www.gov.uk/
Link to GPS route map
https://www.outdooractive.com/
https://www.alltrails.com/
https://explore.osmaps.com/
13. Kimmeridge Bay to Swanage Walk SWCP
Distance: 13.7 miles (one-way)
Difficulty: Difficult
Estimated time: 8 hours 15 mins
Total ascent 3058ft, Highest point 505ft
Starting point: Kimmeridge Bay Car Park BH20 5PF
OS Map: Explorer OL15 Purbeck & South Dorset
Link to GPS route map
https://www.outdooractive.com/
https://www.alltrails.com/
https://explore.osmaps.com/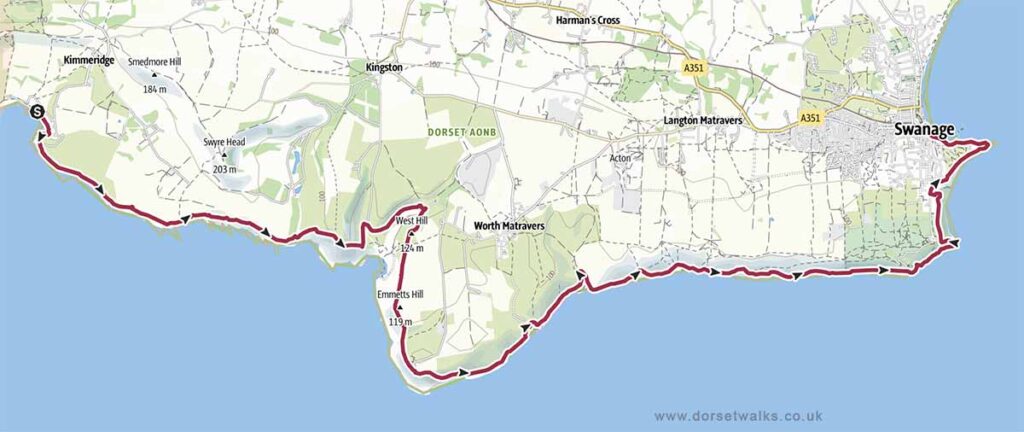 14. Kimmeridge Bay to South Haven Point SWCP
Distance: 21.2 miles (one-way)
Difficulty: V Difficult
Estimated time: 12 hours
Total ascent 4032ft, Highest point 505ft
Starting point: Kimmeridge Bay Car Park BH20 5PF
OS Map: Explorer OL15 Purbeck & South Dorset
Link to GPS route map
https://www.outdooractive.com/
https://www.alltrails.com/
https://explore.osmaps.com/